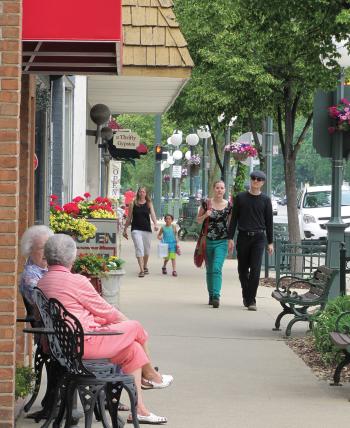 Tecumseh is the perfect blend of modern downtown amenities and peaceful country comforts. This charming town offers a plethora of shopping options, delectable dining experiences, and serene rides down the River Raisin at the Tecumseh Paddle Company.
For beer and wine enthusiasts, Tecumseh is home to the Pentamere Winery a stop on the River Raisin Wine Trail and Tecumseh Brewing Company, Michigan's first crowd-funded start-up craft brewery.
Families will love the annual Appleumpkin and Ice Sculpture Festivals, which draw large crowds for a weekend of fun for all ages. Art Trail Tecumseh is another great way to spend time with loved ones and explore the free sculpture exhibit with new installations each year in early May.
In addition to these festivals, Tecumseh hosts events throughout the year. The Downtown Diva at Dusk events in the spring and fall are perfect Ladies Night Out events to enjoy with sisters, daughters, and friends.
Tecumseh's Memorial Day Parade is one of the largest in the county and is a must-see event. The parade and service at Brookside Cemetery honor veterans of the past and present with floats, bands, horses, and an airplane flyover.
During the summer months, visitors can enjoy the Classic Cars and Bike Show on the third Thursday of the month, May through September, or walk downtown during the Sand Sculpture festival. Music in the Park runs in conjunction with the car shows from June through September.
Finally, in November, Tecumseh's Holiday Open House rings in the holiday season with the annual streetscape lighting ceremony.
Come and experience what makes Tecumseh innovative, timeless, and inviting. We can't wait to meet you!